Unlock Your Accounting Firm's Growth with Facebook Marketing by Get More Traffic
At Get More Traffic, we recognize the significance of effectively reaching your target audience as an accounting firm. That's why we specialize in crafting tailored Facebook marketing strategies exclusively for accountants like you. By harnessing the full potential of Facebook's and Instagram's capabilities, our expertise can assist your firm in establishing connections with potential clients, enhancing brand awareness, and fostering meaningful engagement.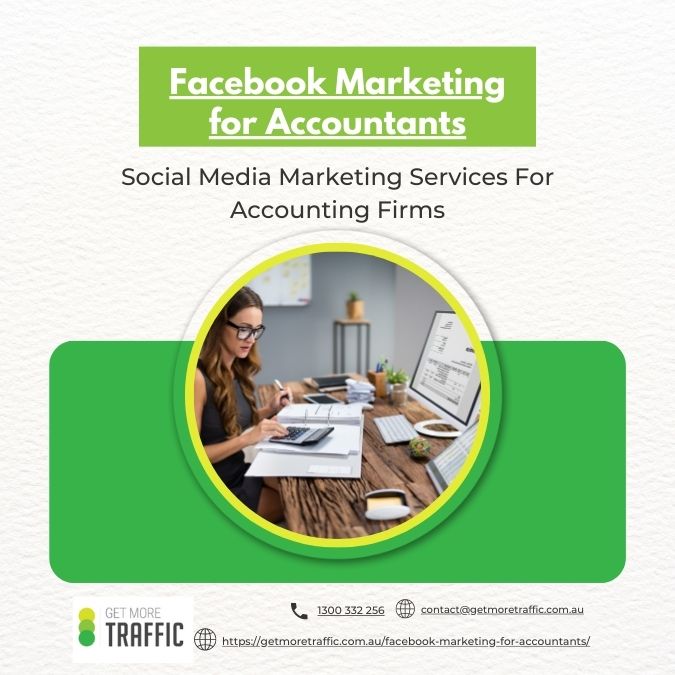 Why Facebook Marketing for Accountants?
1. Reach a Vast Audience: Facebook boasts over two billion active users, making it a treasure trove of potential clients for your accounting firm. Our Facebook marketing services aim to tap into this massive audience, ensuring your message reaches the right people at the right time.
2. Highly Targeted Advertising: With advanced targeting options, we can create tailored Facebook ad campaigns that reach your ideal clients based on demographics, interests, behaviors, and more. This precision targeting maximizes your ad's relevance and increases the likelihood of converting leads into clients.
3. Cost-Effective Advertising: Facebook's advertising platform allows for flexible budgeting options, enabling you to allocate your marketing budget efficiently. Our experts can help you optimize your ad spend to achieve the best return on investment (ROI) for your accounting firm.
Our Facebook Marketing Services for Accountants
1. Customised Ad Campaigns: We work closely with you to understand your accounting firm's unique offerings and target audience. Based on this insight, we craft personalized ad campaigns that effectively convey your brand message and showcase your expertise.
2. Compelling Ad Creatives: Our team of designers and copywriters create visually appealing ad creatives and compelling ad copy that capture the attention of your potential clients and inspire them to take action.
3. Audience Targeting: Using Facebook's robust audience targeting tools, we identify and reach the specific demographic groups most likely to be interested in your accounting services. Whether you want to target small business owners, self-employed individuals, or other specific groups, we've got you covered.
4. A/B Testing and Optimization: We continually monitor the performance of your Facebook ads and conduct A/B testing to identify the most effective ad variations. This data-driven approach allows us to optimize your campaigns for better results.
5. Remarketing Strategies: We implement remarketing strategies to re-engage potential clients who have interacted with your accounting firm but haven't converted yet. By staying top-of-mind, we increase the chances of converting these warm leads into loyal clients.
6. Performance Analysis and Reporting: Our team provides comprehensive performance reports, allowing you to track the success of your Facebook marketing campaigns. We also offer valuable insights to guide future strategies and decision-making.
Why Choose Get More Traffic for Facebook Marketing?
1. Expertise: Our team comprises experienced digital marketing professionals who have a deep understanding of Facebook's advertising platform and best practices.
2. Tailored Solutions: We recognize that every accounting firm is unique, and we craft customized strategies to suit your specific goals and needs.
3. Data-Driven Approach: Our decisions are based on data and insights, ensuring that we make informed choices to drive optimal results for your firm.
4. Transparent Communication: We maintain open and transparent communication with our clients, providing regular updates and reports on campaign progress.
Take Your Accounting Firm to New Heights with Facebook Marketing
Ready to take your accounting firm's marketing efforts to the next level? Partner with Get More Traffic and unleash the potential of Facebook marketing for your firm. Our tailored strategies and expertise in the digital landscape will help you grow your client base, boost brand visibility, and achieve your marketing goals. Contact us today to embark on a journey of success with Facebook marketing.