Tradies SEO Package | Tradies Paid Ads Package | New Trades Website
Complete Guide to Marketing for Tradies
As a dedicated tradie marketing agency, we understand the unique challenges and opportunities that come with marketing in the trades industry. Our experienced team of professionals specializes in providing tailored marketing solutions that align with your business goals and target audience. We work closely with you to develop customized marketing strategies that will maximize your online presence and drive results.
Our comprehensive online marketing services cover a wide range of strategies specifically designed for tradies. From search engine optimization (SEO) to pay-per-click (PPC) advertising, social media marketing, content marketing, website design and more, we have the expertise to leverage the power of online platforms and connect you with potential customers.
With our online marketing services for tradies, we aim to increase your visibility and attract targeted traffic to your website.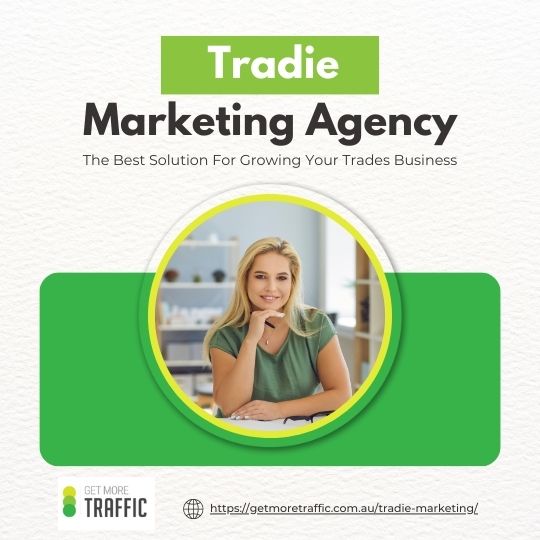 Branding and Marketing for Tradies
Building a strong brand is crucial for tradies to differentiate themselves from the competition. Our branding and marketing services help tradies establish a unique brand identity and communicate their value proposition effectively. We develop branding strategies, design professional logos and marketing materials, and create cohesive brand messaging across all marketing channels.
Digital Marketing for Tradies
Our digital marketing strategies are tailored to the needs of tradies. We utilise various digital channels and techniques to promote your business and generate leads.
Digital Marketing Services
Our digital marketing services encompass a wide range of strategies and techniques tailored to the needs of tradies. From website design and development to content creation, SEO, PPC advertising, and more, we offer a comprehensive suite of services to help tradies succeed in the digital landscape. We leverage our expertise in local SEO, Google My Business optimization, and other digital marketing tactics to ensure maximum visibility and reach for your business.
Website Design and Development
Having a professional, user-friendly and mobile friendly website is crucial for tradies to showcase their services, build credibility, and attract potential customers. At Get More Traffic, we specialize in website design and development for tradies, creating online platforms that effectively communicate your expertise and help you grow your business with a professional look.
Content Creation
Creating compelling and relevant content is key to attracting and engaging your target audience. At Get More Traffic, we specialize in content creation that showcases your expertise, builds trust with your customers, and positions you as a thought leader in your industry.
SEO for Tradies
We provide expert SEO services specifically tailored to the needs of tradies businesses. Our goal is to enhance your online visibility, improve search engine rankings, and drive qualified leads to your website.
On-Page SEO Optimisations
We optimize your website's on-page elements, including meta titles, meta descriptions, header tags, URL structure, and keyword placement. This helps search engines understand the relevance and context of your webpages, leading to improved rankings.
Offsite SEO
We develop a strategic link-building strategy to acquire high-quality backlinks from reputable and industry-specific websites. Backlinks from authoritative sources help to improve your website's credibility and organic search rankings.
Read More on Backlink Building
Local SEO and Google My Business
We understand the importance of local SEO and optimizing your Google My Business listing to attract local customers. Our team specializes in local SEO techniques that help tradies rank higher in local search results, drive targeted traffic to your website, and increase your visibility among local customers. We also optimize your Google My Business profile, ensuring that your business information is accurate, up-to-date, and appealing to potential customers.
Social Media Marketing for Tradies
Social media is an essential platform for tradies to connect with their target audience. We offer social media marketing services that help tradies build a strong presence on popular platforms such as Facebook, Instagram, and more. We create engaging content, manage your social media accounts, and run targeted ad campaigns to attract potential customers and boost brand awareness.
View Our Social Media Packages
Facebook Marketing for Tradies:
Facebook is a powerful tool for tradies to reach their local audience. Our Facebook marketing services are designed to optimize your presence on the platform and drive engagement. We create and manage Facebook ad campaigns, target specific demographics and locations, and analyze the performance of your ads to maximise your return on investment.
Read More on Facebook Marketing
Facebook Ads Packages
We provide Facebook Ads packages designed to help businesses maximise their reach, engage with their target audience, and achieve their marketing objectives. Our Facebook Ads packages are tailored to meet the unique needs and goals of businesses across various trades industries.
Read More on Our Facebook Ad Packages
Instagram Marketing for Tradies
Instagram has become a popular platform for businesses to showcase their products and services through visually compelling content. At Get More Traffic, we specialise in Instagram marketing strategies tailored specifically for tradies. By harnessing the power of visual storytelling, we can help you effectively engage with your target audience, build brand awareness, and drive customer engagement.
Read More on Instagram Marketing
Paid Advertising for Tradies
We provide paid advertising solutions tailored specifically for tradies businesses. Our paid advertising strategies are designed to help you reach your target audience, increase brand visibility, and generate qualified leads.
Google AdWords
Our Google AdWords experts create and manage highly effective Google Paid Ads campaigns to drive targeted traffic to your website and maximize your return on investment (ROI). With our expertise in Google Ads, we help tradies businesses like yours reach the right audience at the right time.
Google Ads Options
Microsoft Ads
We offer comprehensive Microsoft Ads services specifically designed for tradies businesses. With Microsoft Advertising, formerly known as Bing Ads, we help you tap into a diverse audience and expand your online reach beyond traditional search engines.
Microsoft Ads Options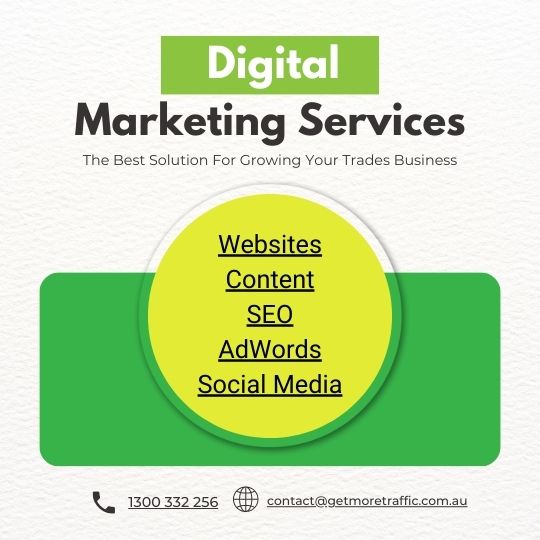 Traditional Marketing for Tradies
While online marketing has become increasingly important in today's digital age, traditional marketing options still hold value, particularly for tradies looking to connect with customers in their local communities. At Get More Traffic, we understand the significance of offline marketing strategies and still recommend using a range of traditional marketing options to help tradies expand their reach and attract new customers.
Billboards and Outdoor Advertising: If you want to make a big impact in your local area, we recommend you use billboard and outdoor advertising campaigns. Strategically placed billboards, signage, or banners can raise awareness of your tradie business among commuters, pedestrians, and local residents.
Vehicle Branding: Make your work vehicles work for you by incorporating your branding and contact information. Vehicle signage and wraps provide mobile advertising that attracts attention as you travel to different job sites, helping to increase brand visibility and generate inquiries from interested prospects.
Promotional Items: Distributing branded promotional items, such as pens, magnets, or keychains, can help keep your business top-of-mind with potential customers. We recommend customizing promotional items that align with your brand and resonate with your target audience.
Local Sponsorships: Supporting local events, sports teams, or community initiatives through sponsorships can help raise your profile and create positive associations with your brand. We recommend you identify relevant sponsorship opportunities that align with your business values and target market.
We recommend using a combination of traditional marketing tactics with a number of digital marketing tactics to ensure the long-term success and continual growth of your business online.
Trades Industries We Service
1. Construction (including residential and commercial builders)
2. Plumbing
3. Electrical Services
4. Carpentry and Joinery
5. Painting and Decorating
6. Roofing Services
7. Bricklaying and Stonemasonry
8. Landscaping and Gardening
9. Plastering and Gyprock
10. Air Conditioning and Refrigeration
11. Tiling and Flooring
12. Fencing and Gate Installation
13. Cabinetmaking and Joinery
14. Glazing and Glass Services
15. Pest Control
16. Waterproofing
17. Excavation and Earthmoving
18. Demolition Services
19. Metal Fabrication and Welding
20. Scaffolding Services
Please note that this list is not exhaustive, and there are several other trades industries in Australia we service.
Marketing Agency for Tradies: Online Marketing Solutions to Boost Your Business
If you're a tradie looking to boost your business and achieve your marketing goals, partner with Get More Traffic tradie marketing agency. Our comprehensive online marketing solutions, tailored specifically for tradies, will help you increase your online presence, attract more customers, and grow your business. Contact us today to discuss your marketing needs and take the first step toward success.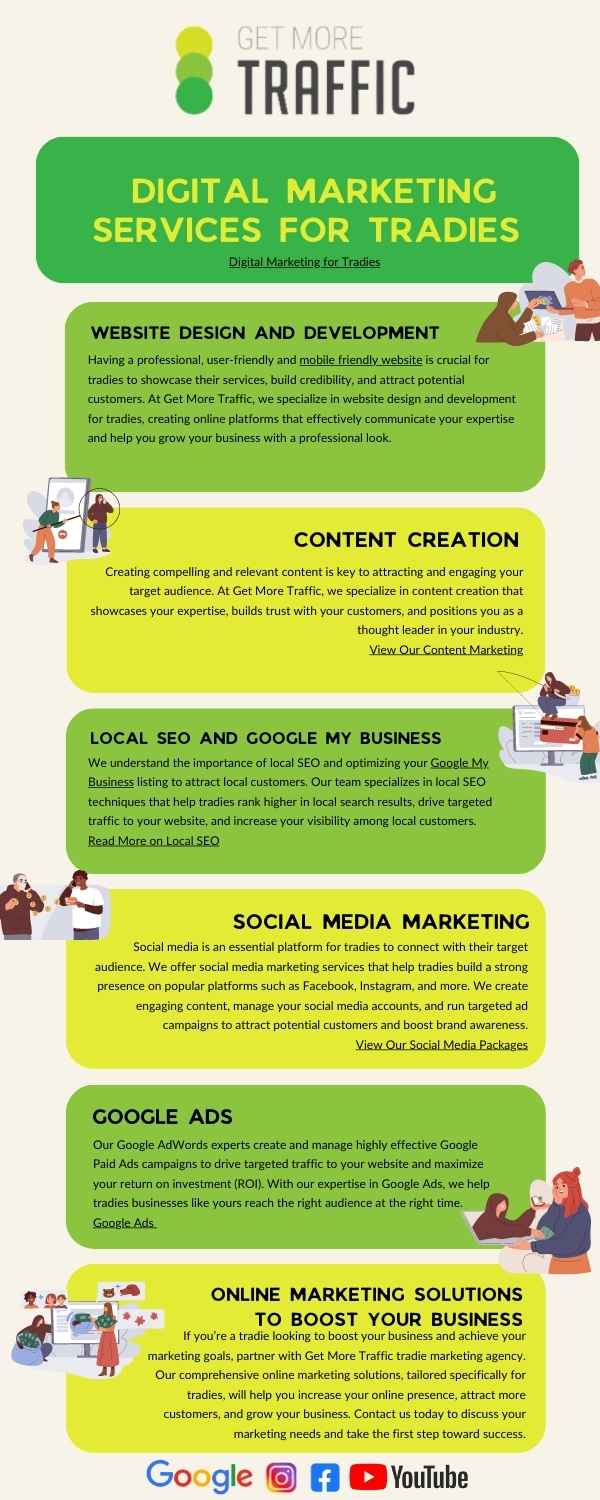 Download Infographic PDF