Driving Your Small Business For Success In 2022
SMB Resilience: How Australian Businesses Are Surviving Amid A Global Pandemic
If Australians are good for one thing, it's for our resilience. Being able to come together to help those who really need it, even when we're dealing with our own adversities, is something we're really proud of. Consider the summer of 2019-20 when a large portion of the country was battling devastating bushfires that absolutely destroyed more than 24 million hectares of land, taking with it more than one billion animals and 450 people's lives. As heartbreaking as these fires were, they showed us how resilient Australia is as a nation, with individuals donating more than $282 million in relief to the victims. Then came the devastation of COVID-19, forcing thousands of Australian SMBs to close their doors either temporarily or for good. Whether those businesses recovered or not, one thing was certain – we had to adapt. Enter 2021.
2021 was a rollercoaster, to say the least. With vaccination numbers on the rise, it looked as though there was a light at the end of the tunnel. Maybe the country could return to business as usual. But just as soon as the nation opened up, it closed again with the introduction of the Delta strain. Once more, businesses were forced to close as this more contagious, more deadly virus strain forced us back inside. Those of us who were lucky enough moved to work from home, carting computer monitors and other equipment from our offices and setting them up at makeshift workstations at home. However, those of us who couldn't had to wait it out, leaving thousands of businesses reeling with uncertainty, their employees unsure if they even still had jobs. They moved online, using the internet and social media to stay afloat while SMBs (which make up 55% of National GDP) figured out what to do next. We prevailed, though, as we have many times before, showing the world that even when all hope seems lost, Australian businesses remain more resilient than ever. Here's what the numbers are saying about it.
Looking Ahead: 2021 In Reflection
Now that we've made it to 2022, many Australian SMBs have had a chance to reflect on the past year. While businesses closed and more and more people worked from home, SMBs were able to realign their values and work towards the things that really mattered. What they learned, though, might surprise you as a study conducted by LinkedIn revealed some unexpected findings:
The majority of Australian SMBs know where to invest for growth
More than half feel as though the pandemic has helped the futureproof their businesses
Over 60% feel optimistic about the future despite the majority indicating some uncertainty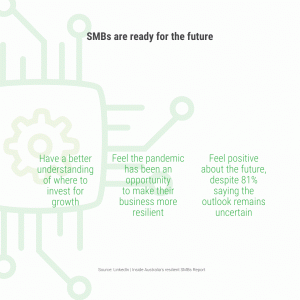 With lockdowns in full swing and the state government's closing borders, 71% of Aussie SMBs were, unfortunately, affected by slowdowns. The part that turned some heads, though, was the data surrounding success, whereby a massive 38% of Australian SMBs actually performed better than an average year (Mi3, 2021). Additionally, a further 40% indicated feeling positive about the outcomes of 2021 as they use their setbacks to prepare for an even stronger 2022.
So, What's Changed?
For Australian SMBs, online presence has become one of the most important tools in staying afloat amid the pandemic. LinkedIn reports a 44% increase in 'new SMB Company Pages', all of which are highly active and more engaged. Additionally, global brand ambassador, Taryn Williams believes consumer values have shifted. She says relationships between SMBs and their clientele are more crucial than ever. Williams also believes social media plays a huge role in building relationships with consumers and heading into the thick of 2022, she encourages all SMBs to utilise their online presence. She says SMBs should leverage platforms they wouldn't ordinarily use, like TikTok, for example, to increase organic reach. Further, Williams states consumers want to support Australian SMBs but are more inclined if a business offers sustainable goods and services and adhere to ethical practices.
As of now, many SMBs are looking to the future, focusing on costs and opportunities for growth. During LinkedIn's research, they discovered three main areas in which Australian SMBs have been able to optimise resources and lower costs: rent, operations, resourcing.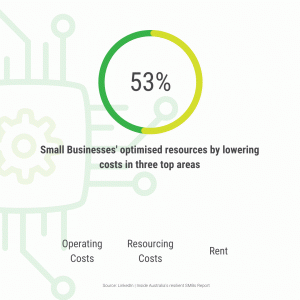 These statistics indicate that Australian SMBs have shifted their priorities. Now, they're putting more effort into their customers' needs and working to make employee tasks more efficient. Finally, businesses can begin to operate as normal (or as normal as the pandemic will allow).
Efficiency: The New Normal
As Australians discovered more flexible working conditions, they also found areas to increase productivity. Global Commercial Services Vice President and General Manager, Stephen Pendergast says there has been a 12.4% spending increase on technology and automation software investments. Investing in such areas not only frees up space to focus on activities that push the bottom line, but they remove the risk of human error. CEO of Headbox Australia, Ali Lord, agrees, saying digital solutions to complete mundane tasks removes the legwork and saves costs. Employees have come to expect this now too, with the experts at Salesforce finding investments in technology make for both happy employees and satisfied customers. The bottom line is: work smarter, not harder.
Where To From Here? Tips For SMBs in 2022
If the above stats indicate anything, Australian SMBs have learned to adapt, even with the future uncertain. With omicron affecting more Australians each day, businesses need to remain flexible, adapting to change where they can. To continue to succeed in 2022, it's important to be proactive. Take what we've learned and transform it into meaningful opportunities for growth. We've broken it all down into ten comprehensive steps:
Maximise success by lowering costs where possible
Keep up with employee demand and morale by offering flexible working conditions
Use what you've learned to make your business more resilient
Be more open to change
Understand what matters most to your customers and employees
Realign customer expectations through honest, up to date dialogue – the good and the bad
Alleviate pressure on staff and give customers the autonomy to find their own solutions by investing in technology
Support local businesses by using or promoting their products and services where you can
Follow ethical practices to attract more of the consumer market
Stay relevant by regularly using social media to promote your business brand