Get More Traffic Named 2017 Australian Small Business Champion!
10th April 2017
Australian Digital Marketing Agency, Get More Traffic, have taken out a top award at this year's Australian Small Business Champion Gala Ceremony.
Announced early this month, Get More Traffic (GMT) outshone a diverse range of entries, cementing themselves as the 2017 'Information Technology' business of the year.
General Manager, Kerry Anderson, says he and his team are thrilled to have been recognised for their achievements in the small business sector, and were grateful for the support all who had helped organise the awards.  
"The management team and I are extremely proud to be recognised as a champion of small business," he said.
"Congratulations to Precedent Productions for yet another outstanding awards ceremony, and also to the other category winners for their service to the small business sector."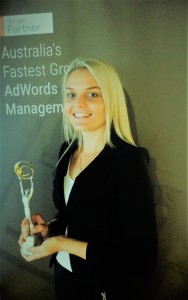 Specialising in AdWords and SEO management for small to medium businesses, GMT is one of Australia's few verified Google Premier Partners, and has been assisting Australian business owners with achieving their goals since 2009.
Last year the business also expanded into New Zealand, furthering their mission to 'help drive success for small and medium sized businesses through transparent, results based AdWords Management.'
"In 2017, as a multi award winning agency, we are better placed than ever to achieve our mission of helping Australian small businesses with their online growth," Mr Anderson shared.
Now in its 18th year, the Australian Small Business Champion awards recognise outstanding Australian small businesses and encourages high standards of excellence. Drawing over 1000 guests to this year's annual gala at The Westin Sydney, the award ceremony delivered an array of small businesses from a broad range of industries across Australia.  
"The Australian Small Business Champion Awards is a way to recognise the efforts of small business people whose efforts contribute to the prosperity and vitality of communities across Australia", said Steve Loe, Managing Director of Precedent Productions and Founder of the awards.
"As a small business owner myself, I know the vision and dedication to excellence required to succeed. These traits have been displayed in abundance by all of our 2017 Small Business Champions."
Presented by Precedent Productions and supported by Associate Sponsors, Castaway Financial Forecasting System, Understand Insurance, and Dent, the Australian Small Business Champion Awards are the only nationally recognised program for Australian SMEs.